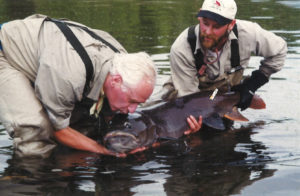 Ruin resulted from hearing a bankruptcy lawyer mention a heart-breaking case where he could not help a couple who lost everything in a large, litigious bankruptcy. And hearing how hard it was on the marriage since the wife was a naïve heiress who casually guaranteed a debt that exploded, and who had to then leave New York with her husband to live rurally. I later met the actual couple as then aging neighbors.  From this origin, Ruin grew. Its process of composition was chemistry of diverse personality observations and diverse memories, mixed with an elixir of strong emotions from life and literary art the writer carried into the tale however they entered his spirit.
As to the various fishing episodes in this novel the same composition process developed. All but one is factually based on my actual experience. Yet they are neither simple reportage nor so distorted as to constitute pure fantasy. If one's discrete scene memories are like photographs, then these episodes for me carried what the great Alfred Stieglitz termed equivalence. Basically meaning that objective content in an artful photo subtly can trigger somehow associated feeling and perception.
Ruin's composition process as to fishing episodes actually was itself my equivalence experience. Here is a not so simple example. The very first time I stepped into a New Zealand river my guide had lined up five tiny nymphs on my chest. From a high bank we could see a preposterously big trout holding at middle of the flow. The guide said when you get down there you will not see that fish any more. He told me to cast a fly one time each in order from left end to right below the exposed triangular boulder top. Forty-foot cast, fly lands two feet below the rock and to its right side. If no take put the next fly on, and so forth, unless rhe guide whistles from the ridge because it spooked away.
That fish did not spook.  When struck it swam downstream more powerfully than any trout I ever had on. In a flash its bolt had my reel screeching out backing line. I had to chase, churning through current down the deep center of the pool, since a chuting rapids lay ahead where it could easily snap off.  I slipped and fell in but was wearing the New Zealand gear of tights, shorts, and light boots. So, holding the rod tip up, I dog paddled a bit to a big rock, climbed atop it, and was able to turn the tiring big one short. I was able to release a two-foot brown without ever lifting it out of the water.  Competent respect of the prey being my own due role in high sport.
That of course became Ruin's opening chapter vision of fly fishing at the chameleon bridge over the Rubicon River. Frank looks down and sees athletic Jace swimming to and with a big fish. Only after I had first written that much did I recall a scene in Norman MacLean's A River Runs Through It. There the doomed competitive fisherman brother swims to a rock to reach where others cannot. That scene was an equivalence of the brother's obsessive character. And so I rewrote to enhance Frank's own retrospect of Jace's moment.  To realize in that instant he in foreboding could have foreseen Jace's personality core that would become both his and Jace's bane.